Growing Sunflowers From Seed : When to Plant & How to Care for Them
Growing Sunflowers From Seed : When to Plant & How to Care for Them
  
Growing Sunflowers: When to Plant & How to Care for Them

Growing sunflowers from seed can take some patience, but you will reap many benefits by adding these stunning, beautiful blooms to your garden. Let's take a  quick look at how to grow them!
2021 was dedicated the year of the sunflower by the National Garden Bureau, and it's really not difficult to see why. Sunflowers are cheery and bright, great for attracting pollinators like birds and bees to your garden, and lots of varieties even have the benefit of edible seeds!
Growing sunflowers is a great way to brighten up your yard, most varieties start to bloom after around 80 - 95 days.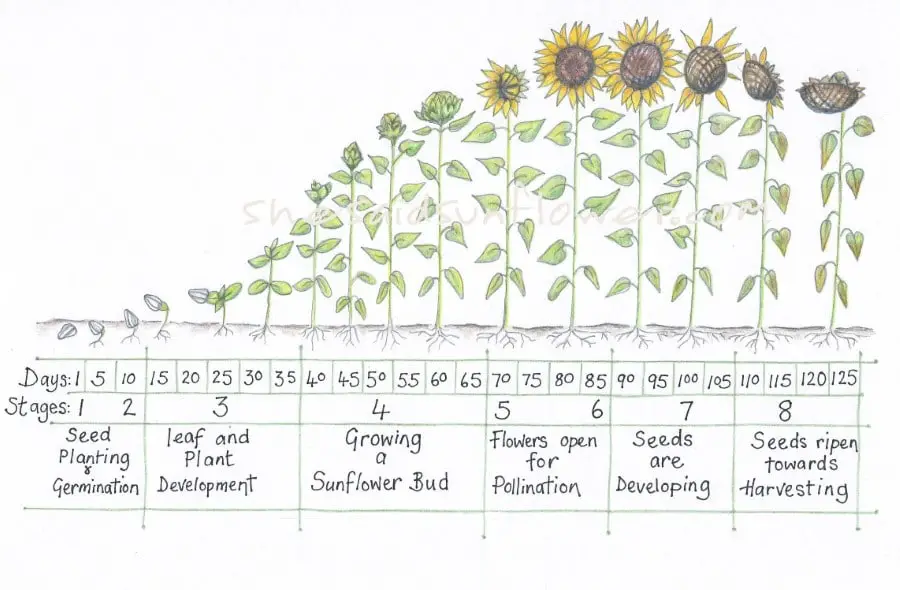 Growing Sunflowers: Where & When to Plant

Sunflowers will bloom at different times, even if they're all planted at once!
The best time to plant sunflower seeds is during spring and summer or any frost free season however, if you live in the warmer parts of Australia, you may be able to plant them year round!
Once you're no longer at risk of frost, sow your seeds directly into the ground or your container.
If you can avoid it, try not to transplant a sunflower. Let it grow wherever you sowed the seeds – these flowers have a fussy root system and don't like to be disturbed too much. You can use biodegradable
paper pots
to transplant as an option. The entire pot can be placed into the ground.
We sell biodegradable seedling bags here!
Where to Plant

It goes without saying that you need to choose a bright and sunny location – they are called sunflowers for a reason!
Sunflowers don't like to be waterlogged, so you'll want to choose a location with well-draining soil. If you can find a spot with nutrient-rich soil your sunflowers will be even happier. Lots of manure and mulch will help!
When growing sunflowers, you'll want to try to plant them up against a wall or fence for protection from the wind. Some varieties are quite top-heavy, and the wind can damage their heads.


Preparing the Location & Sowing the Seeds

Make sure to plant your sunflowers far enough apart.
Once you've found the ideal location for growing sunflowers,  ideally you'll need to do a bit of prep work to get the bed ready.
Turn over your soil to make it nice and lose for seed germination. Sunflowers develop long root systems and need room to grow.
Consider mixing in some organic matter or compost to ensure the sunflowers have enough nutrients to feed on. We use well composted manures from any garden store.
Sowing the Seeds
Plant your seeds approximately 5-6cm deep.
Because these plants need plenty of space to grow, plant your seeds about 30-50cm apart.
Don't plant all your seeds at once. Consider staggering your planting days by a week or so in order to enjoy blooms all summer long.


Growing Sunflowers: Tips for Care

Sunflowers turn their heads towards the direction of the sun! If you watch throughout the day you can see this occurring.
Caring for sunflowers is generally quite simple, but there are a few things to keep in mind.
Sunflowers are very thirsty, so you'll need to keep them well-watered. If larger varieties dry out, they'll have a hard time recovering. Consider adding a layer of mulch to help maintain moisture levels. Sugar cane mulch or even bark will do the trick!
Taller varieties might need the assistance of a stake or trellis. We've even tied them to our fence!
Pinch side shoots to keep the plant's energy concentrated in the flowers.




Companion Plants

Sunflowers make a great companion plant for many flowers, vegetables and herbs. There's actually very little it won't work well with. The one thing to steer clear of is potatoes – these two will not do well together.


Companion Herbs
lavender
garlic
basil
chives
rosemary
Companion Vegetables
zucchini
onion
kale
peppers
peas
beans
tomatoes
cucumbers
Companion Flowers
marigolds
nasturtiums
daisies
cornflowers
sweet pea
geraniums
lobelia


Harvesting & Using Sunflower Seeds
Sunflower seeds are an added bonus of growing sunflowers!
The easiest way to harvest sunflower seeds is by letting nature do it for you. Simply cover the head with a paper bag, piece of bird netting or stocking to keep birds from stealing your seeds and wait. Once they begin to loosen, they're ready to harvest – you just need to pluck them by hand.


Or you can simply leave the heads out for the birds to enjoy!